Thursday, June 14, 2007 @ 11:39 PM
Krispy Kreme Donuts.
Honestly, they do not have a store in Singapore and I was questioning what's all the hype about. Over-rated buzz? After all, they're just
donuts
. Donuts everywhere also got. I once had a friend who queued up 3.5 hours just to get me some donuts at The Donut Factory in Raffles City Shopping Centre, and I really felt extremely touched because queueing up
that
long was a little unexpected. But after I ate them I was like, woooh this is so darn good.
And I personally do not like sweet stuff, especially those salty food (read: everything except cakes, confectionery, sweets and chocolates) which 'act sweet'. For example,
List of foods which I don't like
1) Chinese Barbequed Pork (Bak Kua)
2) Satay - don't like the sweet sauce and the sweet honey-ish taste of the meat. In my opinion, meat tastes much better when it's savoury.
3) Pork floss - It's sweet and it melts in your mouth. So it's like you're basically eating nothing. Candy floss is much better.
Yeah, I'm just weird like that. =)
Haha.
Anyway, donuts came today!
Flown in a jet plane over from Melbourne, Australia.
Kinda sweet.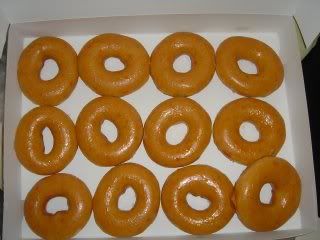 I opened this box and I was like, wow.
Totally cheered up my mood because I was pissed over what a certain friend said to me today but after I ate some donuts, (
some
, not all) I reflected on what I said to him. That he's a 'flirt' and stuff. Which was actually pretty hurting, I thought. Cos he's actually a real nice person inside. And I realised that. Actually it doesn't mean anything much to me.
So cheers, if you're reading this. You're still my friend lah.
Go and resolve things with her. Soon!
=)
So anyway, back to donuts. Still kinda skeptical, I took one bite.
And.
Oh man, it was

delicious
.
What can I describe. Heaven on earth. Each piece literally melts in your mouth into some tangy goodness.
The original glazed donut, when heated up in the microwave for approximately 30 secs was totally. Rarr. Orgasmic.
Haha. Though I don't really know how exactly does an orgasm feels like (and ahem, it's a
long
time away. No sex before marriage ya) but I can imagine it must be pretty overwhelmingly divine!
And, it was.
The donut I mean.
I can't believe I haven't eaten Krispy Kreme before in my entire life and I always heard people talking about it. Like, Krispy Kreme is so darn good!
This guy even said:
We have Krispy Kreme in Buffalo and all the Singaporeans who go back to Singapore often pack them in ziplocks and tupperware as if they were trafficking drug. From what I've heard, there is nothing like Krispy Kreme out there, but the best way to eat it is to get the Original Glaze and have it while it's still hot. This way the donut orgasmically melts in your mouth. Just wait for facial expressions when you present your friends some.
Haha. He said orgasmic too.
Whatever. Oh mannnn I love love
love
Krispy Kreme I just can't get enough of it.
Anyway, I forgot to mention. The person who sent it over was actually my ex boyfriend, who's actually my friend now (ya complicated personal story) and he's called Benjamin. So kudos to Benjamin! Thank you very much.
Hmmm. Speaking about ex boyfriends and the issue I experienced today.
I thought about stuff.
What is love?
Love is beautiful. Love releases endorphins, your little 'happy drug'. Love makes you happy.
Love makes me feel on top of heaven.
Seriously, for the previous relationship that I've been through. He made me feel as though I'm the luckiest girl in the world, always showering me with love. Cracking lame jokes etc. Nobody could understand me better, I felt.
But then there were also down times.
And, for now. I don't wanna go thru all the tough stuff again~ So for now, it's good that-
I'll stay single and carefree all through the whole of JC.
Sure, someone might think you're cute.
Major problem for me. When someone thinks that I'm cute I often end up observing more about that person, noticing his good points etc... and very often I end up falling for that person. Sheesh. Unless you happen to be the extremely irritating and intolerable kind.
And, small crushes might come up every now and then (I've been thru a few already) but- hey, let's just say I'll keep them as small crushes k. Let your friends tease you, whatever. But I don't care.
So what if I think someone is cute? Then think lah. Apparently I have a few friends around me who constantly like to magnify my crushes and stuff and from now on, I shall just laugh along. Har Har.
I have my own secret eye candy now.
Hee.
Don't tell you.