Saturday, December 31, 2005 @ 12:00 AM
My New Year's Resolutions.
Lately, I have taken to thinking a lot.
I'm been trying to find myself.
I realise that I'm a person who might look strong on the outside, full of cheer and full of happiness. I never really grumble, unless I feel unhappy. And I never really feel unhappy. People who know me might think I never have worries. I play a lot, I joke a lot, I'm loud and crazy among my friends but shy around strangers.
And only my closest friends know that I feel a lot. Feelings overwhelm me.
I love like nobody would. I love with passion, with no restrictions and no boundaries. When I love a person, I embrace his/her flaws. I love my best-friend (yes I'll admit that), I love my friends and I love my family the most.
Warm up to me and I'll trust in you just as easily. Show me that you'll respect me, and I'll respect you too. Trust in me and I'll gladly do the same, 10 times over.
It takes a lot of break that trust.
But once it's broken, it's just gone...
Unfortunately, I also tend to get hurt easily. That is one of my flaws.
A friend once asked me, "What are your flaws?" And I said, "I tend to get hurt easily".
That person simply laughed and said, "That is not a flaw! I love you for who you are."
Well, now you know. It is a flaw, and you have experienced it too.
I'm not perfect, and nobody is. I constantly ask myself not to look for perfection in a person, cos I know that it will never come.
And I think it's so true.
Why ask for perfection? When you know it will never come, you would only be asking for the impossible and disappointing yourself irregardlessly. I would like to imagine that I could accept anyone for who they are.
I've been trying to do that.
Sometimes people ask me, "Why do you care so much?" You never seem to hate.
Yes, it's true. I can't hate anyone because I find it hard to hate a person... I know it sounds weird. But somehow I just do.
That's me.
Some people just hate. And I mean, hate. Hate for a reason, hate for no reason. Hate, just because that person did you wrong, hate because you can't get along... hate, just because.
I admit I used to hate. I used to hate people who betrayed me, I used to hate people who hated me... when I was young, I used to have what you would call "enemies". Enemies in primary school, "don't friend you anymore" and all that kinda nonsensical stuff. But as I grew up, I realised that life is too short to hate.
Life should be love.
Sure, love won't make you complete. Love won't make me complete. But love definitely makes me cherish.
And sometimes I'm just a girl who loves and wishes to be loved in return.
It's just that simple.
---
And now, on to lighter stuff. My new year resolutions!
In no order:
1) Be more caring to everyone around me.
2) Love thy neighbour as thyself.
3) Be more gentle. Like a shu nu, in all aspects.
4) Be more patient.
5) Grow closer to God.
6) Play more with my brother. Game with him if he wants to.
7) Be very hardworking! Stop slacking.
8) Be a funnier girl. (Haha, I didn't think of this)
9) Score 10 points and below for O's.
10) Be a beautiful person inside and out.
11) Think of one thing that makes me happy everyday.
12) Learn to cook more delicious food.
13) Tell more of my wonderful stories to people who love them.
14) Learn to love and understand.
15) Try not to think too much about things.
16) Trust.
17) Cherish the people around me. Show them my appreciation!
18) Quit being naggy.
19) Learn a new sport (rock-climbing!)
and lastly...
20) Stay a happy girl no matter what!
Yaye! Okay okay, I feel so much better now.
So these are my New Year resolutions. I will try to fulfil them, but I won't guarantee you. Haha. Most importantly is that I want to stay a happy girl everyday and have more fun with my friends! And of course, love my family.
Yes, I will be happy happy.
HAPPY NEW YEAR TO YOU!





Wednesday, December 28, 2005 @ 5:32 PM


Because I am a girl.


And like some girls, I often like dangly earrings, shoes, bags and sweet stuff like raindrops on roses. But unlike some girls, I do have my weaknesses for cosmos and gadgets as well.


And if there's one phone I want at the moment, it's this.


1) Motorola Razr V3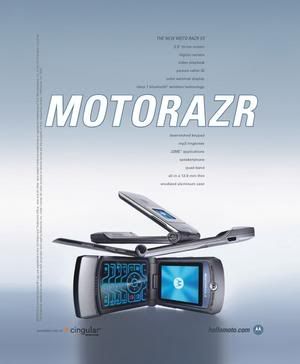 MOTORAZR!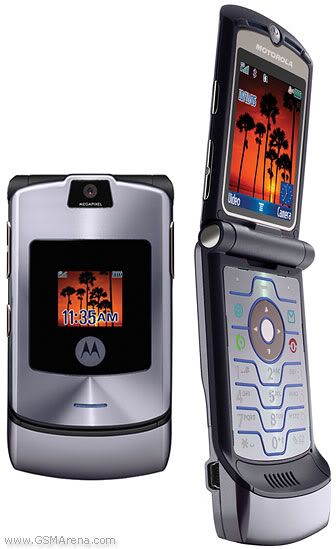 Beautiful.


It can store up to 512 MB of memory (cos I have a lot of stuff) and has very clear reception.


The only thing I don't really like about it is its camera (VGA only) and I heard that its keypad is really hard to SMS. I tried it in person too. REALLY hard to SMS, I might need some getting use to.


It comes in pink too.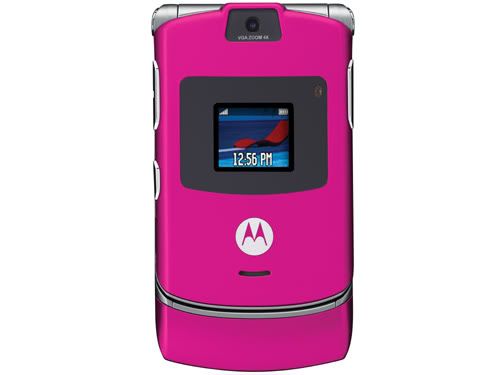 Looks like a barbie phone to me.


I don't really like its particular shade of pink. Yuckx.


But I still want the silver one! Or the black one. Either which, I just love clamshell phones. Sigh.


My recent Samsung one stopped functioning already. First the clock slowed down and then after that the LCD screen blacked-out. It's not really old though, but after using it for 6 months I've kinda gotten attached to it.


Oh well. I can only blame it on myself, because I dropped it and flicked its cover too often. The guy whom I brought it to repair said, "No hope already. You pay $130 for servicing or throw it away lah". Cos nobody will want to buy it.


Poor phone. Nobody wants you anymore :(


And pay $130 for repair? Er, no thanks.


So now its on to a new phone! And a new number possibly. Mom and I have been walking around searching for phones recently and with her sore throat, she's lost her voice as well. Poor mommy. -hugs-


I've been doing most of the talking and finding out. I might get a Nokia or Samsung phone again (possibly because I've grown attached to Samsung). But after all, Nokia phones are more user-friendly.


2) Apple IPOD Mini






Another darling. My brother's got his MP3 player already. I do realise I like IPOD Mini better than IPOD Nano, simply because it has colours. I want the lime-green one so right now I'm saving up for it. Haha.Cos I'm not old enough to work yet :(


And well my dad did say he would get me one if I had 4 As, digress back to my August post. But I shall not press him. I will instead be a good daughter (hmmm) and save it up for myself!


3) Canon Cybershot T9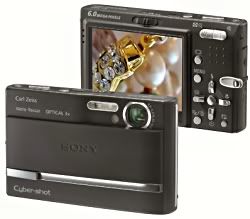 I need a good camera. My mom made a wrong choice purchasing the Olympus one in August at a cheaper price. The first one we had blacked out too often (gah, olympus) and we even brought it to exchange for a new one!


3 months only. It's new but it's gone wonky already.


What I like about this camera is that it is slim and has a wide LCD screen. It also has 58 MB of memory space. The buttons are also easy to navigate (perfect for an un-tech savvy person like me). Give me any old camera and I won't know how to navigate around it. Like which button to press for zoom in and to see which pictures you have taken. Which makes me on the losing end sometimes, haha.


Anyway I just love this camera. It's compact which means I can put it in my handbag sometimes!


4) Samsung E700A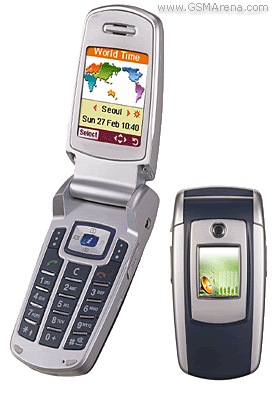 This phone ah, this phone. My dear baby... but it's so annoying at times. The clock has slowed down and the LCD screen kena blacked out about 6 times already.


Dad got it for me cos I didn't really like how my old Nokia phone looked.


I still can't bear to throw it away becos it has a lot of SMSes and photos inside (stored in a special folder so people can't find it, haha) which mean a lot to me. All the funny/caring SMSes from my friends and some very private photos!


Anyway, it's so sad. Too bad it blacked out else I could have used it forever.


--


Oh yeah, I forgot. I also like matching cute lingerie.




Tuesday, December 27, 2005 @ 4:49 PM


I don't know anymore.


Oh wait, I do know.


1 month.




@ 1:12 AM




(Left to right: Me, Samantha)


Jasmine Ngu: Hidden (haha)


At my house for Bio project! I love you girls :)




Sunday, December 25, 2005 @ 12:00 AM


Merry Christmas!


Just came back from the church youth party :)


It was super fun! Haha we had this $5 gift exchange thing and I got a glow-in-dark test tube with some bath oils from ZY. Anyway the atmosphere was really good. We went out to the balcony and there were candles lit up, it looked really warm and romantic.


Heh and then there was this movie made by NLYC which was super funny!


It was about the Ghost of Christmas who came on Christmas Eve of 2005 to visit Jeremy.


Through the Christmas ghost, Jeremy realised that he led a life of sin. All the eves of Christmas were turning points of his life. Christmas Eve 1997 was when he broke up with his girl friend, Hannah. He felt really miserable after that... and on Christmas Eve of 2036, he passed away at the age of 48.


Well, this brings forward the question. What does Christmas mean to me?


Christmas to me means spending time with the dearest around me... those whom I love and those who love me. Whether it's my family or friends, I love them all. Christmas is a time when people put away their differences and also a time to forgive and forget. Christmas to me is about giving and sharing. It is also a time to stop our busy lives and focus on prayer and love :)


And most importantly, Christmas is about celebrating the birth of Jesus.


It is about thanking Christ for all that He's done to keep us on our feet... this is the day that God sent his only son so that we might have salvation. And that is why I want to be a true follower of Christ. I want to honour You and to offer You my heart. I want to commit myself to You :)


I admit and acknowledge my sins... I ask for repentance, and I ask to receive God's love and forgiveness.


And most importantly, I want to love the people around me. I want to forgive and forget the bad feelings I've had recently for a certain person. I want to care for the people around me. Even for those whom I don't know, I wish them a very Happy Christmas ... and to you too :)


I love this song.


-
I Offer My Life - Hillsong


All that I am, all that I have
I lay them down before you O Lord
All my regrets, all my acclaim
The joy and the pain, I'm making them yours


Chorus:
Lord I offer my life to You
Everything I've been through
Use it for your glory
Lord I offer my days to You
Lifting my praise to You
As a pleasing sacrifice
Lord I offer You my life


Things in the past, things yet unseen
Wishes and dreams that are yet to come true
All of my hopes, all of my plans
My heart and my hands are lifted to You.
-


It just touches my heart.




Friday, December 23, 2005 @ 12:13 AM


Dear Sammo,


I don't know if you'll ever read this, but if you do.


You are really special to me. Even though I might not say it to you in person, or haven't even told you before. You've been my good good friend for two years already, and we've shared many good times and bad.


Good times where we laughed and giggled (oops. The things girls do) over the silliest things. And together with Hanlin, we're the only people who can do the trade-mark high-pitched laughter! Endless Orchard Road trips after school simply just to walk around and look at clothes in Mango and Esprit, the things girls do. Eating Island Creamery ice cream together with Jasmine for the first time. Reading magazines together and then commenting at prom dresses and attractive clothes. Going to HMV to listen to music. Our shared love for the colour black and grafitti.


Times when we dared each other to do outrageous stuff. Remember the 101 phone-dare? Sometimes, just staying back after school to go to the band room with me. Going to Caltex after school to un-wind and eat instant noodles. Or going to the squash courts, just anywhere.


This I'll never forget.


Bad times, times when we argued over the silliest things too. Times when we squabbled like little school girls and then ignored each other for days on an end. I remember the longest was one week! But didn't we always make up after that? Like all good friends do. Times when I felt down and you were there for me. Times when you comforted me. When you, Hanlin and Jasmine Ngu came over to my house to console me during the down period. When you guys actually sat down and listened to me pour out my troubles. Remember the time when you offered me toilet paper because I cried? Haha. I really appreciate you for that. Really really, truly.


This, I'll never forget too.


Thank you so much for all the things you've done, for all the things we've done together.


And sadly, you'll be leaving us by the end of next year. To somewhere far away, you'll be gone for 5 years at least. There is a possibility that I might never see you again. As much as I can say, I can never stop you from leaving even though I want to tell you, "Don't leave... okay?".


I will really really really miss you, dear friend. Stay for prom at least. Remember we made a deal that we would go shopping for our prom dresses together? And book a hotel room or go clubbing. And we'll never pay for the teachers! Haha.


Yes, so let's make it come true. Grad night will be a time to remember.


And we'll always be friends forever. I appreciate you Sam :)



From, Jia.




Tuesday, December 20, 2005 @ 11:36 PM


Just finished my section's fun fair game! It's supposed to be for the Sec 1 orientation next year, and instead of having our usual booths we'll be having games as well :)


I painted 4 layers of acrylic white paint and get this - 1 layer of Nippon wall paint, but I still couldn't get the pink off. So now the clarinet keys look pinky pinky.






Haha. Oh wells. Part of it was a combined group effort and I brought the rest home for touch up. Imagine having to carry this 1 metre long styrofoam board to the bus stop.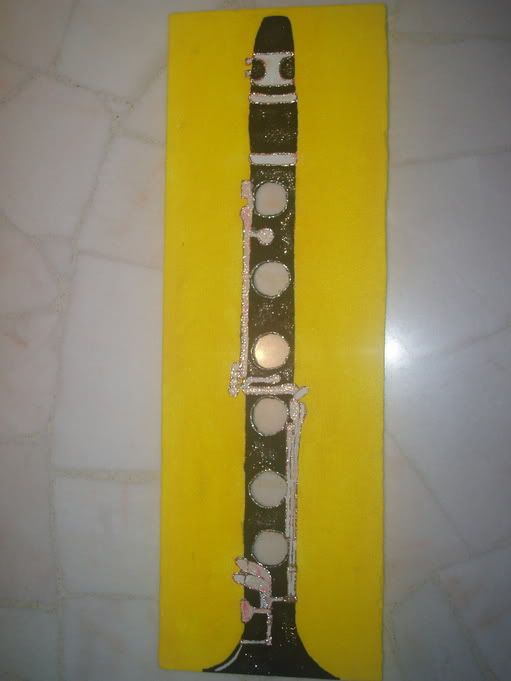 The game goes like this. In the board are 6 holes which are supposed to be the clarinet key-holes. We get the sec 1s to throw ping pong balls into the holes and then if they get through, they stand to take part in the lucky dip!


Yeh man.


We're a little short of funds.


But it's gonna look really good :)


Anyway, halfway painting the clarinet I was kinda bored so I went to take pictures of the stuff around me.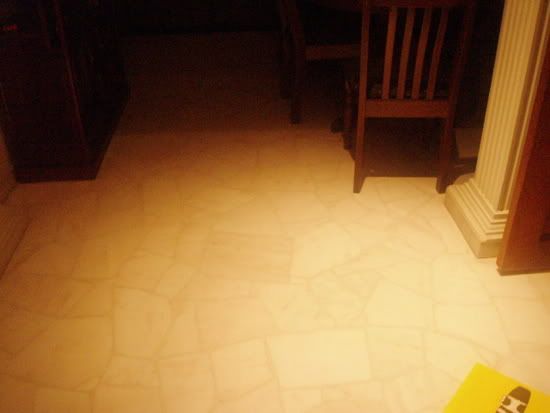 Was playing around with the functions on my mom's camera. It's new but turning wonky already :(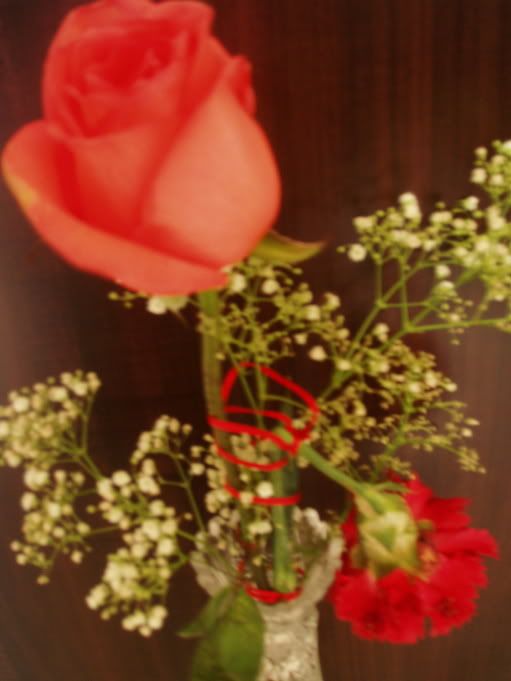 Nice? Except that the carnation is withered. I like the effects. It came with my wonky camera. Haha.


And here with a dreamy sepia background.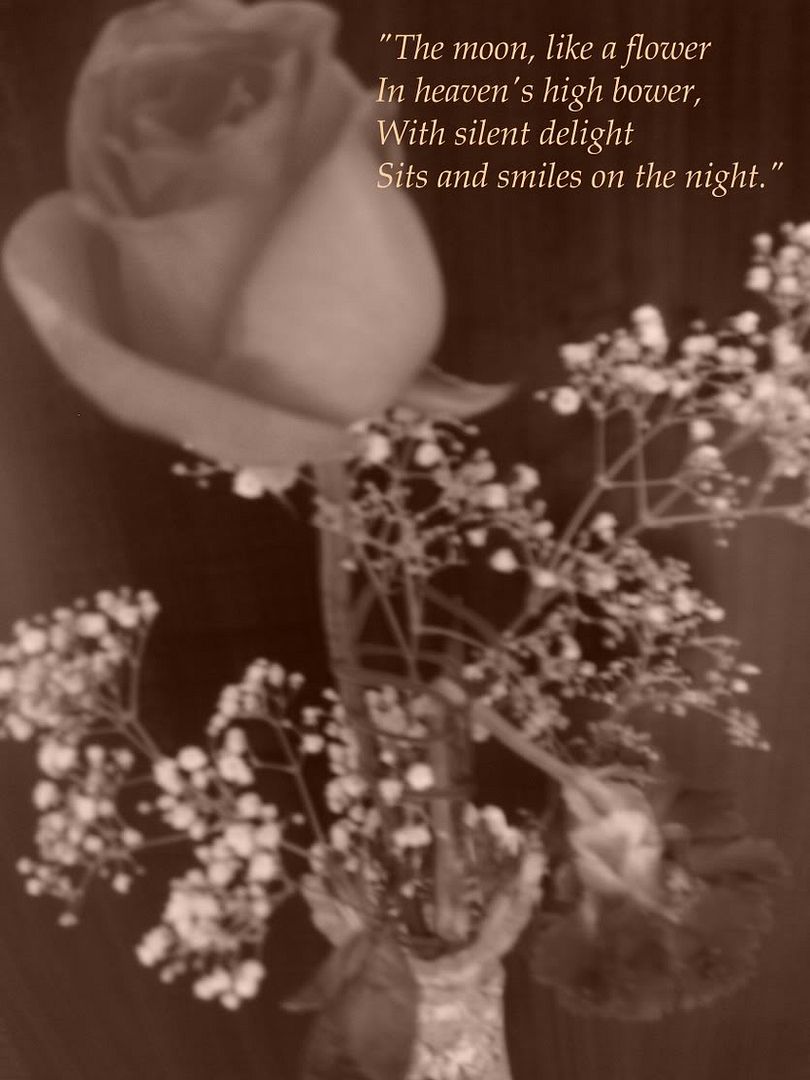 Hmmmmm :)


Just realised that I forgot to upload camp photos! Here are a few random ones.


We slept in the Tamarind Room during this year's band camp. It was 1/4 the size of last year's sleeping quarters.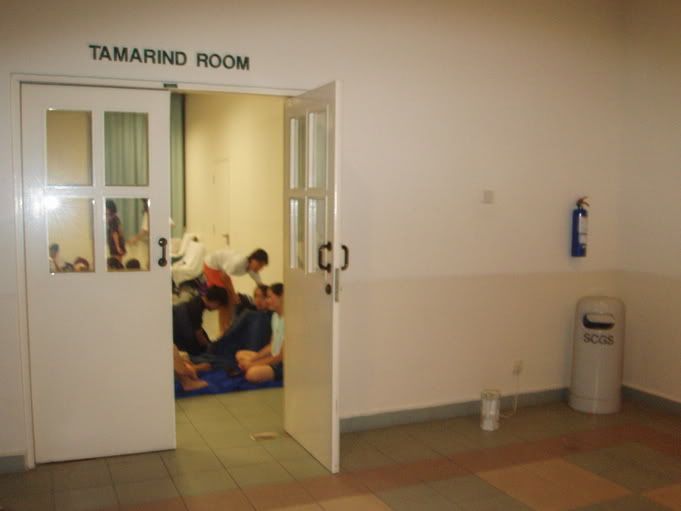 Squashed and packed like sardines.


And did I mention that it gets a little scary at night?




Dark and spooky corridors :(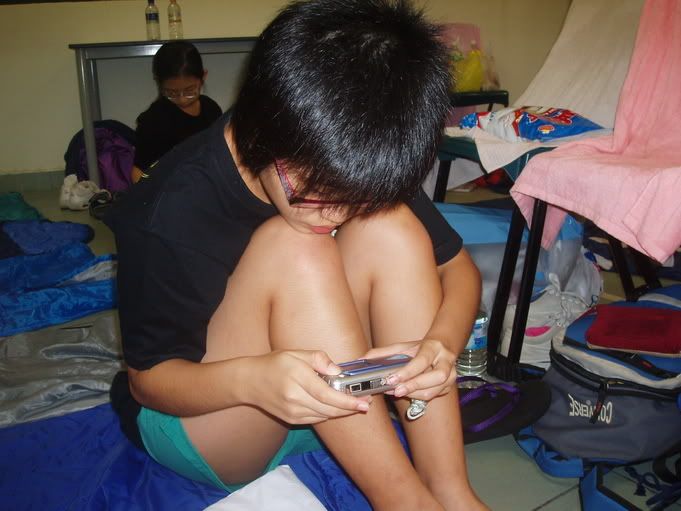 It's always good to have a toilet buddy with you :)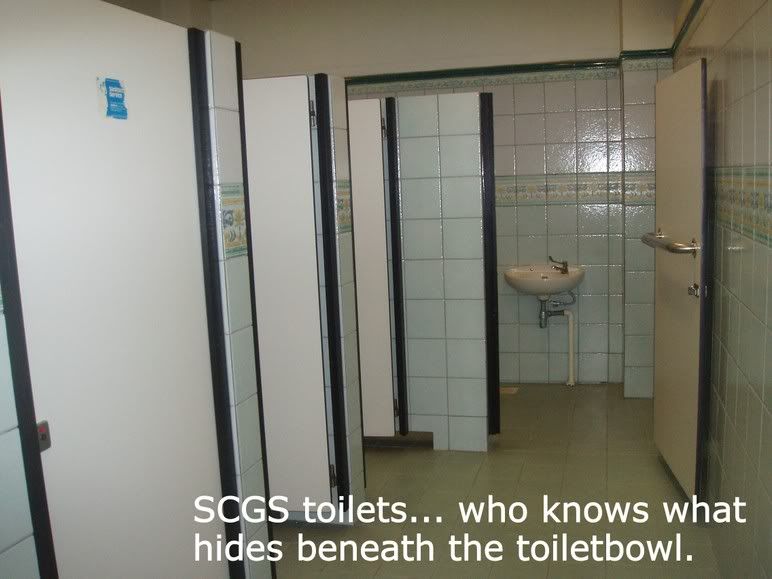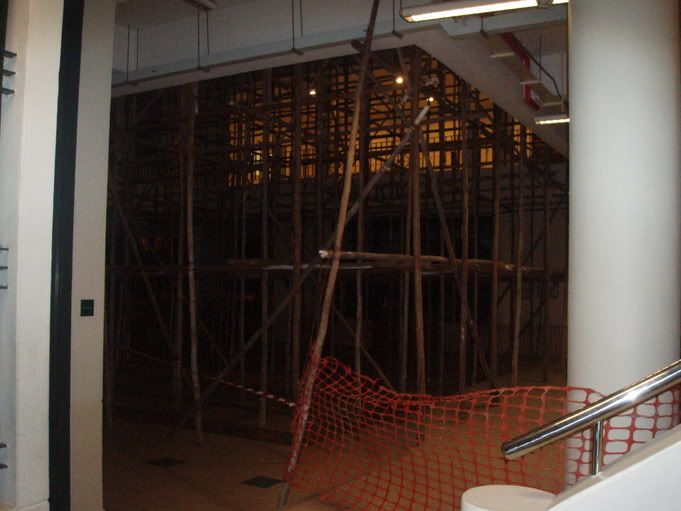 We ventured down the stairs late at night. Oh look, they're re-painting the lobby walls!




Camilla and Sheryl. My two lovely juniors :)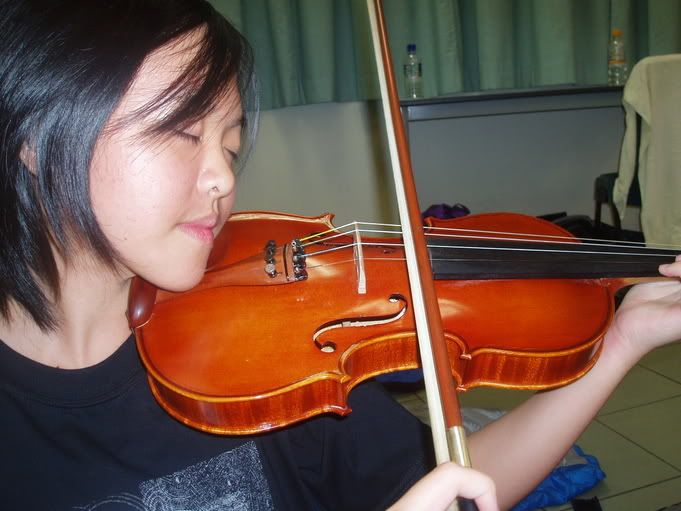 Camilla pretending to play Yiyan's violin!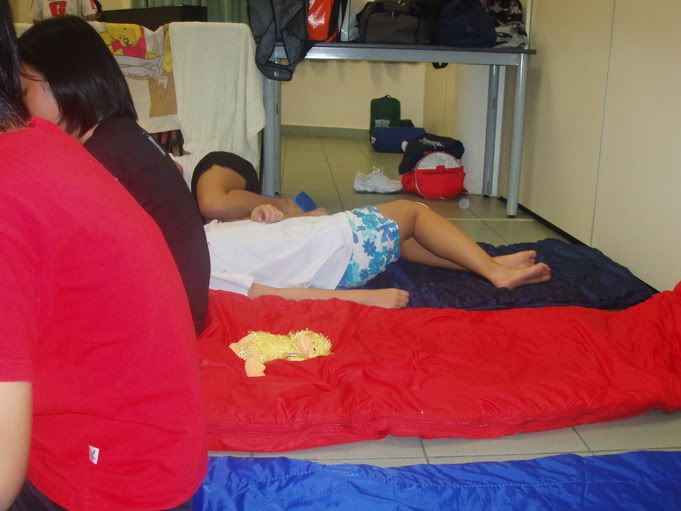 Our section's little cosy nook.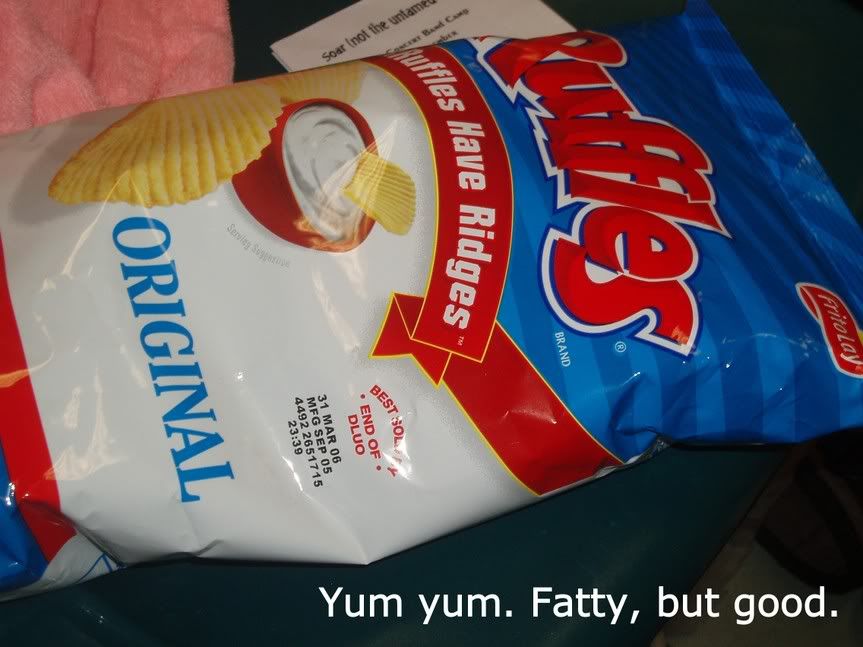 Late night snacks!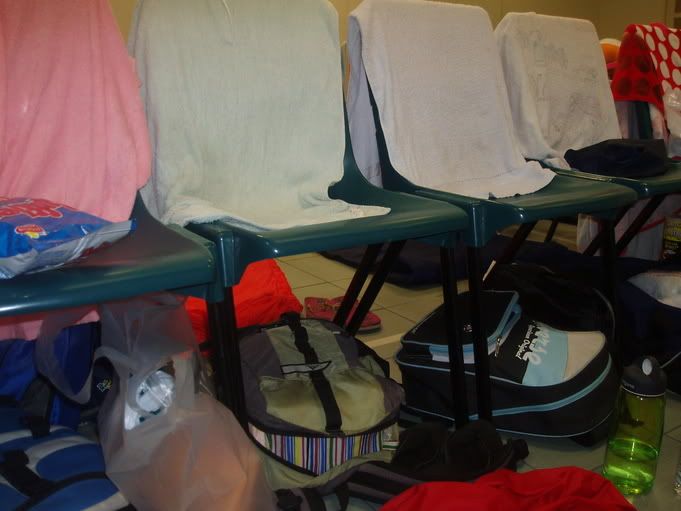 Our tirade of towels hanging to dry.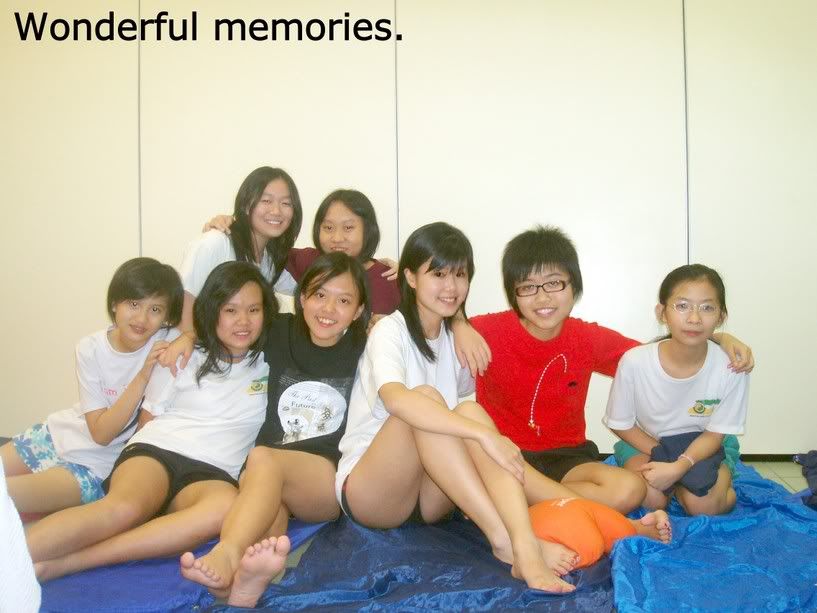 And finally, a photo of us all.




@ 3:19 AM


.






I'm not ready for this.




Friday, December 16, 2005 @ 3:57 PM




Today, you asked me what was beautiful.


You looked into my eyes and you saw all the love in the world.






Thursday, December 15, 2005 @ 11:52 PM


Just realised that I haven't updated for a long time.


Had a good time today. I'm in a good mood right now :)


I've rarely been in a good mood since a few months back, so I shall make good use of this time that I actually feel happy. And when I mean happy, I mean glowing inside and out. Contented, pleased and I want to shout out in euphoria!


Funny thing that happened was when I called my mom on the phone and talked to her, she actually asked me, "Why do you sound like you're smiling?" and I was like, "Mummy! How do you know?" Haha. Mom knows me best.



Went out with Viv and we walked around Orchard looking for her birkenstocks! Lucky girl. Apparently her boyfriend Ignatius gave her the money for a Christmas present. Can you believe it? I can't. Its not even like they're married or something. And here they are, giving each other money to buy gifts. He doesn't mind actually. But I think she was quite hurt that he didnt want to go with her. Awww nevermind, you've got your lovely cousin here with you too right :)


Haha. So anyway we went around looking for Ignatius's Christmas gift to her. He's busy with some intern job, and he gave her $200 to splurge on anything she likes. Hmmmm. Well, I don't know about you but I think that $200 is a lot to spend on your girl friend. Heh. We went to Wheelock Place and walked around Borders first. And then here, we encountered something unusual.


We were browsing the magazine counter and I picked up a copy of Time when a guy came in. Viv was looking at Female over at the other side. The guy seemed flustered and he was sorta panting heavily.




Guy: Hi, how old are you?



Me: 15 this year.



Guy: I'm from I Models and I am scouting for a New Face for a Starhub advertisement.



Me: Okay ...



Guy: I see you look quite mature for your age. We are an international model agency... blah. Specialising in you know whats, we are so famous in you know where.



Me: Okay.



Guy: I was wondering if you are interested, because I have a name card




here. -whips out card- I'm Bernard.



Me: OK, I'll take a look first. Can I get back to you?



Guy: Sure. May I have your number?




At this point I was wondering if I should give him a fake number (!), since I do have his number anyway.


Me: Its okay, can I get back to you? Thanks.



Guy: Welcome.




I do wonder if it's faux. After all, I have been encountered before by a lady with a Filipino accent at Cityhall MRT. It's just too common. Points to note; He did mention Starhub and gave me his name card though. What I do know is, I Models is definitely trusted, at least thats what I heard from my friends. Nevertheless, I told my mom about this and she laughed.


I am not going to be one! Choy.


Haha so anyway Viv and I went up to the Birkenstock shop and chose a yellow pair with white stripes for Viv. It cost a whopping $192. Looks cool actually. I want one! Guess I'll have to save up for it.



And then I suggested buying a chocolate bar in return for Iggie's effort (thats what she calls him, sounds gay but so affectionate) and we went down to Mark's and Spencer's. Of course that is not his Christmas present! Just a little something extra for being nice and giving. And down we went where we bumped into You Know Who. I shan't say it here, but people who know me might get the idea. We said hi in an awkward way and slumped away leaving me feeling guilty for a while. We got a dark chocolate bar for Iggie (!) and gummies.



I hope Viv gets married to Iggie and then the family tradition will be passed on. I wonder why the Men are always hen-pecked in my family. Perfect examples are my Dad (Michael), Grandpa and Uncle Richard. Kinda sounds pathetic actually. Yeh, I do suppose Men have the greater stand. Isn't it always right? To me it is. The head of the family I suppose.


And then after that Viv went off to meet her Iggie for lunch. I went to meet Ian the Giant (inside joke) at Shaw Centre and we caught Harry Potter and The Goblet of Fire at Lido. It's my second time watching it, and his first. I don't mind cos I want to catch up on the plot. The first time watching was such a mind-boggler. I'm not usually into Harry Potter except maybe for the first few episodes where I bothered to read the books. And then after that it got dreary. Quite a disappointment, I was expecting so much more from the characters. I did like the sound effects and graphics :)


Bottomline: It is boring. Do not watch it unless you are a true-blue Harry Potter fan.


Ian is a nice person to talk to. He relates to everything well with me, and it seems like we have endless topics to catch up on. Haven't actually caught up with him for a year, he seems the same as before. Good old Ian. We went to Pepper Lunch for dinner, hmmmm what an irony. I ordered some lovely corn and beef rice, first time I tasted it was with Franco. It was good. Ian and I sorta shared it because we weren't really hungry. And the waitress was staring at us because we were sharing. But its okay, right? Haha.


And then after that we walked around Orchard at night and looked at the Christmas lights. It was wonderful, we actually strolled all the way down to Tanglin to see if there were any foam machines this year! Apparently no. Awwww. Haha and then he was telling me how he used to come to Tanglin every year when he was younger just to play with the foam. Cute :)


And then we walked back to Lido and passed by an old guy selling tissue paper. Oh man. Poor guy. I bought 2 packets, felt quite bad actually because people were walking past him and not giving a care about him. His leg was amputated :(


And then it was nearing 10 pm so he walked me to the MRT and sent me back home! His home is all the way at Upper Bukit Timah by the way. I felt really happy then. Thanks dude, I totally appreciated it :)


Hmmm so anyway now I'm back home and I'm in a good mood! I just miss Max. Lovely old furball, you gave me so much warmth. Without you I'm so alone. Boooo. Come back home :)


G'night people!




Tuesday, December 13, 2005 @ 6:00 PM


Just read my previous entries.


And I don't mean the entries in this blog, I mean the soul-searching, long-forgotten entries in my old blog. The passion-filled entries, entries basically screaming with feelings and yes, happy bliss. The kind of raw, no-strings attached happiness that you would never find nowhere but in your childhood.


The feelings I had for people then. The feelings I had for music then. These were happy, loving feelings. I embraced them.


Little things that made me so happy then. Things that made me jump and shout and my little heart quiver with joy. Little, little things.


And I just realised, that it actually takes so little to make me happy.


Someone once asked me, "Are you a simple girl?".


Am I a simple girl?


I like to imagine myself as an onion. The first layer gets peeled off, and then the second layer. And then the third, and the fourth. And finally you get to the bulb of the onion. You touch it, and it feels smooth with little ridges around it.


I do have a little mystery to me (:


And I like to imagine the people around me as story books. Pages waiting to be un-earthed and discovered with the flick of a finger. Stories untold and characters un-seen. Most likely with a twist at the end.


I want to feel the love again.


I want to feel the love for music again. I want to feel the passion and energy I once had. I want to be able to listen to music and imagine a story unfolding from it. I want to have compassion for people. I want to feel for people.


To feel what they're feeling, and to be able to understand them.


Sometimes I walk around on the busy streets and I wonder to myself, "Why is it that so many people are old and homeless?" If only I could give them a home, I would. If I could invite them over to my home and give them a proper meal. If I could set up shelters for them and to give them care. Anything to stop them from freezing in the cold and to stop people from staring at them and pointing.


I wonder if people around me do seem to understand their pain.


Many a times I have wanted to rush up to these people and give them a hug. In spite of everything. If only a hug could solve all problems and bring a smile onto their faces. If only a hug could solve all indifferences in this world.


Unfortunately, it can't.


A friend once told me that she had been hurt really badly in the past. I wanted to ask her by who and why? But I kept quiet. Instead, I put my hand on top of hers and reassured her. I wanted to let her know that there are other people in this world who still love her.


I wonder why some people are so bent on hurting others that they do it out of pure contempt or simply just hatred for that person. It is a scary thought. I have been hurt many times before too. But those who were close to me, by people I loved. What strikes my heart the most is to be hurt by those who you once loved. Despite the previous pain, I have forgiven and forgotten.


If I had one wish,


Just one little wish for Christmas.


I want the homeless to have a shelter over their heads. I want the hungry and starved to have food on their tables.


I want to hug all the people in the earth who have been hurt before. I want to bring a smile onto their faces. I want them to feel loved, and be loved. I want to bring love all around the world.


But can I?